This week in the PhotoBook Friday series I'm sharing a favorite project…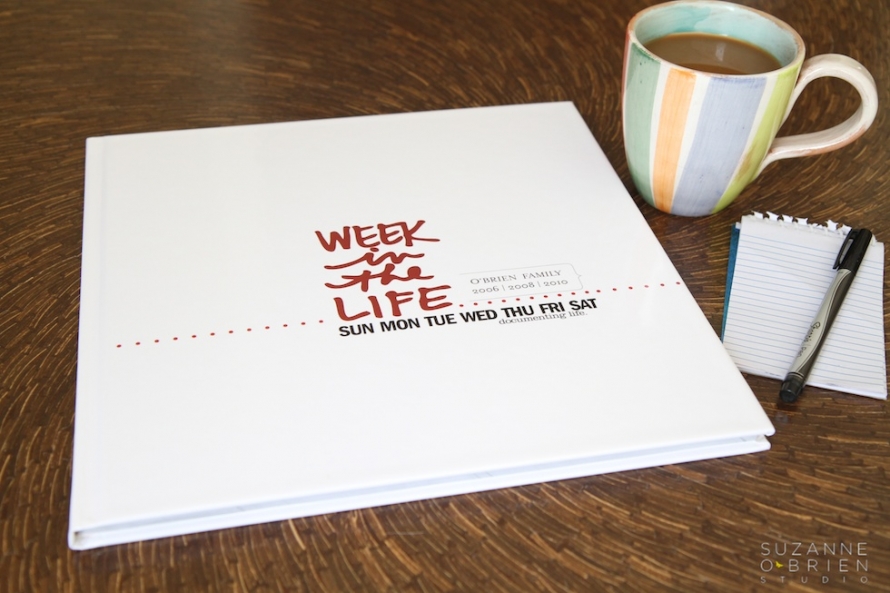 Birthdays, holidays and special trips are big, important parts of our lives. But what about all of the little bits of life that fill up the majority of our days? I would argue that the sweet monotony of daily life sometimes tells a bigger story than all of those larger, more celebrated occasions.  Happily, I am not alone in this way of thinking.  Every year, a growing number of people join the always inspiring Ali Edwards in her Week in the Life project.  Ali says it best – a seven-day documentary project, Week In The Life is an opportunity to capture the simple everyday details of your life with photos and words. I had the pleasure of taking a class with Ali in 2006 where I made my first Week in the Life album.  Since then, I have completed this project every other year – 2006, 2008, 2010.   It is like creating a little time capsule of your life – the daily routines and simple everyday moments.  These albums are priceless to me. They contain memories I'd like to be able to send off with my kids some day.  They also take up a lot of space and I only have one album for each year (but 2 kids). With this in mind, I undertook a big project earlier this year and digitized the pages from my three Week in the Life albums in order to create one streamlined photo book that is easy to replicate and transport.  My albums went…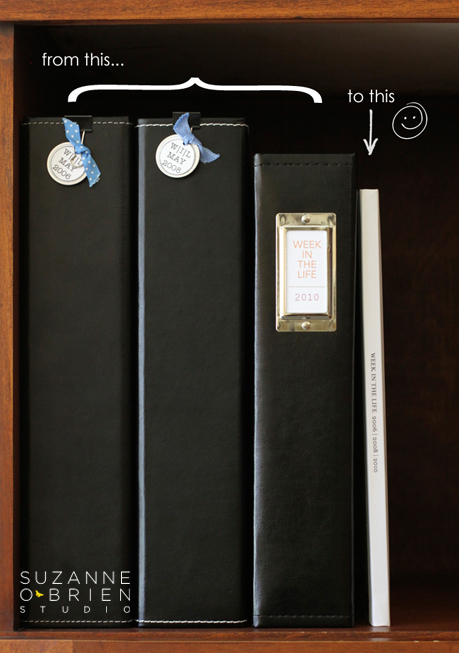 To scan the pages I used Scan Digital, a California-based company (I couldn't get comfortable with sending my pages overseas), and love how it turned out. They have great customer service and even called me when they began scanning my project to let me know that the page protectors were putting off a bit of a glare.  I was okay with that since it was easier to just scan the whole page rather than rebuilding each page from the individual scans of each 4×6 etc. canvas.  But I loved that they called to check with me.  Once I got the scans and my hard copy pages back (insert sign of relief) I created a 12×12 Shutterfly album.  I created the cover in Photoshop with Ali's "Week in Life" graphic, imported that file to Shutterfly, and then layered on some embellishments. Here are a few more pictures of my different designs through the years.  Although I love getting away from the computer and working with my hands, I've slowly been going more digital for the reasons described above.
2006 (based on Ali's design)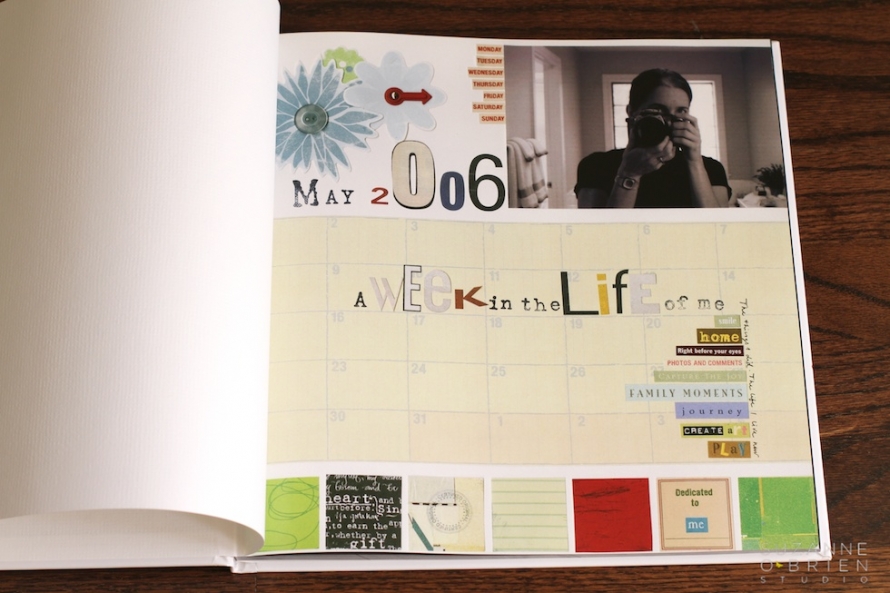 2008 (my design)
2010 (designed using these templates)
This year, Ali is kicking off her Week in The Life project April 23-29.  I can't join that week, so have been doing it this week.  Turns out everything takes longer when you are living your life and taking pictures of living your life!  But I know it is worth it. Want to join in the fun?  I would recommend starting here with this great overview of what is entailed in this creative adventure.  Not a big memory keeper?  This one-week project may be the only thing you need to do this year to truly capture your high school senior or kindergartener's year.  Let me know if you take on this project, I know you won't regret it.
Lest you don't already think I'm crazy enough, I may have done a similar scanning project for other paper-based pages.  Stay tuned for more on that later this year!